Promotional Products
Do you want the marketing and promotion of your business to be cheap, or do you want it to be profitable?
Here are three things that set us apart from the run-of-the-mill promotional products salesperson:
We have long-standing relationships with suppliers nationwide which means we can request faster turn-around or special pricing. We also know which products from which suppliers are junk, and which are awesome.
An experienced art department that knows logos and graphics generally need to be fixed in a special manner so they will print well on items, so your corporate image comes across crisp and clear.
Results-oriented marketing practices that make the difference between you making a donation to your promotional products salesperson's vacation fund, and your project being profitable and reaching the objective for your business.
The promotional products industry is one of the CHEAPEST and easiest ones to get started in, so you'll find an advertising specialty guy everywhere you look. Please don't waste your hard earned money with someone who doesn't know the industry, and is just there to sell you something. Instead, talk to us. We'll bounce some ideas back and forth and help you get your promotion on!
Writing utensils (pens and pencils)
Bags – plastic, paper, retail
Calendars – wall, desk, car
Desk accessories – calculators, clocks
Drink ware – mugs and cups
Tech, including USB flash drives
Health and Safety
If your deadline allows, we'll bring in a spec sample of the item you're interested in so you can be sure it's exactly what you want. No surprises.
Apparel
Do you want your logo or message cruising around town on the backs of your employees or customers? Sure you do. Warning: if you distribute cheap t-shirts with weak graphics or non-complimentary colors, they will wear them to wash the car and do yard work. But, if you give them a high-quality shirt, and take the time to fine-tune every aspect, – they'll wear them to the mall, and around town – which is what you want, right?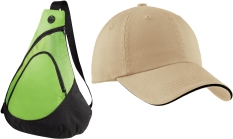 Did you know logos and graphics generally need to be reworked before they'll print or embroider well on apparel? We really care (sometimes more than our clients do) about how our their image is portrayed on the apparel we sell.
Boiling it down: Anyone can sell t-shirts and apparel, but if you want items you can truly be proud of to hand out, and to be seen in, we're here to help.